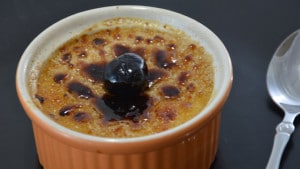 Recipes: Crème brûlée with candied cherries
Summary: Creme brulee recipe with candied cherries, here is a dessert to prepare 1 or 2 days in advance, which will free you for other preparations. I like crème brûlée, everyone at home is fond of them, my son prefers them plain. I reduced the sugar level a bit because the cherries are very sweet. Thank you to my beautiful friend Florence, who regularly unearths small artisans who work all year round to fill our tasty plates. Creme brulee is an integral part of French gastronomy. It is so easy to do. But beware a crème brûlée is without milk, only fresh cream with 32% fat, hey yes ladies… ..
Recipe ingredients:
Creme brulee recipe with candied cherries for 4 people:
12 black cherries
3 egg yolks
50 gr of powdered sugar
40 cl of fresh fluid cream
2 tablespoons of powdered sugar
Instruction:
Add to a bowl: egg yolks, heavy cream, sugar.
Whisk to mix well.
Cut the cherries into quarters.
Place the cherries in the crème brûlée molds
Divide the egg yolk mixture between your ramekins.
Place in a bain-marie with cold water at the start, oven at 220 °, for 30 minutes.
Take out of the oven as soon as the cooking is finished, let cool and put in the refrigerator.
Distribute the brown sugar.
Burn your creams with a torch.
Preparation time: 10 minutes
Cooking time: 30 minutes
Number of people: 4
5 star rating: 1 review
What wine to drink with: Creme brulee with candied cherries
My favorite wine for this recipe: Muscadet de Baumes de Venise grape variety Muscadet
Temperature between 08 ° and 10 °
Separate the yolks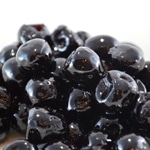 Candied cherries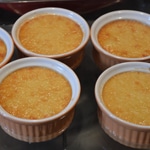 Cooked cream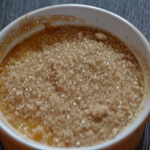 Add the brown sugar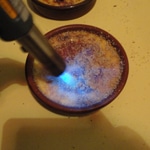 Burn with a torch