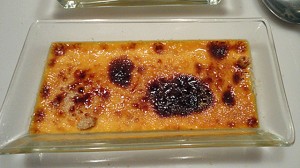 Recipe: Creme brulee with caramel
Creme brulee recipe, creme brulee with caramel. An easy crème brûlée recipe, the most difficult it is cooking, the crème brûlée should never boil, but just a few bubbles at the end of cooking. For the brulee, use a crème brûlée blowtorch and brown sugar, generously distribute the top of the cream. Creme brulee recipe one of my favorite desserts, here with the caramel sauce we go up one level and frankly I stuck with it.
Recipe ingredients
Caramel crème brûlée recipe for 4 people
1/2 liter of liquid cream
3 egg yolks and 1 whole
90 g of sugar for the caramel
4 teaspoons of brown sugar
Instructions
Pour the crème fraîche into a salad bowl.
Add 4 tablespoons of caramel sauce.
Separate the egg yolks from the whites then add the yolks with the whole egg and the sugar to the cream.
Whisk to mix well.
Pour into the ramekins. Place in a bain-marie with cold water at the start and a hot oven at 185 ° for ½ hour. Be careful, this is the hardest cooking in crème brûlée. It should never boil hard, just a few air bubbles on the surface and the cream is ready.
Leave to cool and put in the refrigerator.
Before serving, generously distribute the brown sugar over the ramekins.
Burn the sugar with a blowtorch so that it caramelizes and faces a small crust.
Preparation time: 10 minutes
Cooking time: 30 minutes
Number of people: 4
5 star rating: 1 review
What wine to drink with: Creme brulee with caramel
My favorite wine for this recipe Alsace Pinot Gris (Tokay) Pinot gris grape
Temperature between ° 11 and 12 °
Melt the sugar dry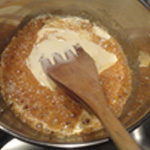 Add the cream to the caramel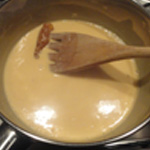 Gently fold in the cream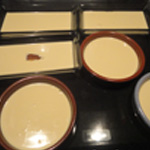 Pour into the molds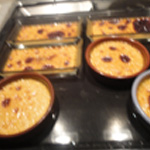 Burn creams