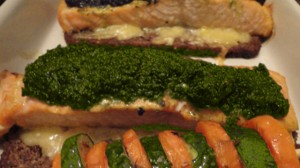 Recipe: Crusted salmon
Crusted salmon recipe, for this baked salmon recipe the cooking should not last more than 15 minutes, so that the salmon is not overcooked. I like to cook salmon in all these forms, barbecue, casserole, in the oven, salmon are suitable for all types of cooking. I'll be making a salmon soup, which I'll upload soon. Salmon in a crust, for entertaining friends in the evening, an easy recipe to make, but complete.
Recipe ingredients
Crusted salmon recipe for 4 people
4 salmon steaks
4 slices of Volkornbrot black bread
8 large tablespoons of tarragon pesto (you can substitute this pesto for another)
80 g of Comté
Salt and pepper
Instructions
Rinse the fish in clean water then dry it with food paper.
Rinse and dry the parsley with food paper.
Remove the salmon skin.
Check with your hand that there are no stops left.
Season the fish with salt and pepper.
Place baking paper on a baking sheet.
Place the 4 slices of Volkornbrot bread (found in supermarkets, in the vacuum section).
Grate the Comté with a vegetable peeler.
Divide the Comté on the slices of bread.
Place the salted salmon and pepper on the Comté.
Place the tarragon pesto on the salmon.
Bake in a hot oven at 200 ° for 12 to 15 minutes, depending on the desired doneness.
Preparation time: 10 minutes
Cooking time: 13 to 15 minutes
Number of people: 4
4 star rating: 1 review
What wine to drink with Crusted Salmon
My favorite wine for Grave blanc Grape variety: Sauvignon blanc; Muscadelle; Semillon
Temperature between 7 ° and 8 °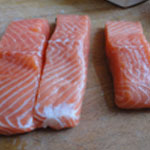 Rinse the salmon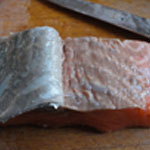 Remove the skin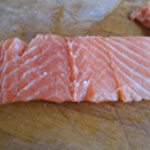 Remove edges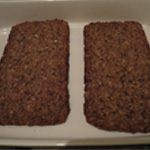 Place the slices of bread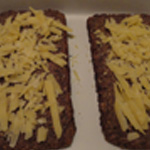 Grate the county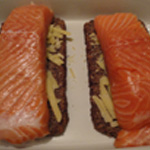 Salt the salmon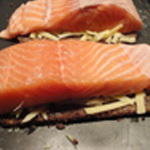 Pepper the salmon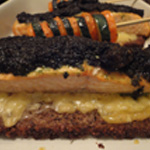 Place the pesto