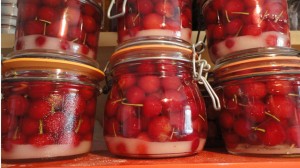 Recipe: Cherries in brandy
Brandy cherry recipe with Montmorency cherries. Brandy cherry recipe with sweet and sour cherries. No need for a pitcher for this recipe we keep the stones and part of the stems of the cherries. Cherry in brandy recipe to reserve for Christmas.
Recipe ingredients
Recipe of cherries in brandy for 1 jar of 1 liter
Sour cherries from montmorency
4 tablespoons of sugar
½ liter of fruit alcohol
1 cinnamon stick
Instructions
Wash and boil then wipe the jars
Rinse the cherries in clean water and leave them to dry.
Cut the cherry stems the same length.
Store the fits in the jar by squeezing them a little.
Add a spoon every two layers of cherries.
Cut the cinnamon stick in half and place it on the cherries.
Pour the fruit alcohol over the cherries.
Set aside for Christmas in a cellar, turning them from time to time.
Preparation time: 30 minutes
Cooking time: 0 minutes
Number of people: 1 liter
4 star rating: 1 review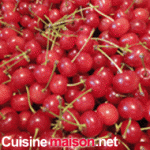 The Montmorency
Store the cherries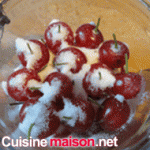 Sweet every 2 floors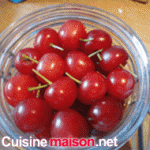 Store the cherries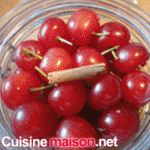 cinnamon stick
Sweeten the top floor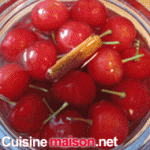 Pour the fruit alcohol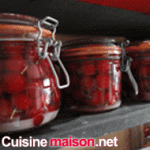 Book 3 months