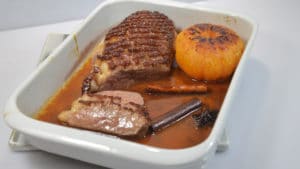 Duck breast with clementines recipe
It's Léonie's favorite meat, I also like this very generous duck, but we don't agree on the cooking, so in principle I eat the middle of the duck breast and Léonie the ends, always a little more cooked. . For this duck breast with clementines, I still had fruits of incredible quality, clementines arriving directly from Israel (it's not next door !!!); they just add a little acidity to this duck breast with clementines; I accompanied it with a white rice. I really like the duck breasts from the southwest of France, always quite generous with a barely pink meat, in any case, ideal for this recipe of duck breast with clementines; I still had a base of late harvest Riesling to make my sauce. I had kept a glass to accompany my meat.
Recipe for Duck breast with clementines 2 people:
Ingredients
1 duck breast
1 clementine
2 cinnamon sticks
2 star anise
10 cl of sweet white wine
2 tablespoons of honey
Instructions
Cut the skin of the duck breast without touching the flesh.
Season the duck breast with salt and pepper.
Peel the clementine.
Gently place the duck breasts skin side down in the cold pan and gently brown the skin.
Turn the breasts over using tongs so as not to prick them and cook for 2 minutes.
Place the duck breasts in a baking dish.
Spread the honey on the duck breasts
Place the clementine with the duck breast.
Bake the duck breasts in the oven for 8 minutes.
Pour the honey into the still hot pan.
Deglaze the pan with the white wine.
Cut the duck breasts and clementine in half.
Preparation time: 10 minutes
Cooking time: 8 minutes
Number of people: 2
4 star rating: 1 review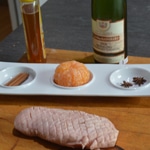 Peel the clementine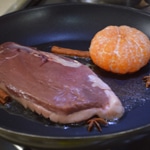 Sear the duck breast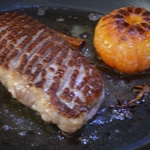 Return the duck breast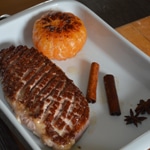 To book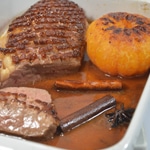 Zoom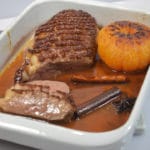 What wine to drink with: Duck breast with clementines
My favorite wine for this recipe: Côte de bourg Cape Diem 2012 Grape variety Sauvignon blanc and Cabernet, Merlot
Temperature between 15 ° and 16 °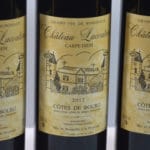 Zoom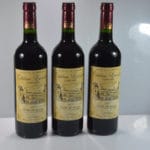 Bottles
Partnership with Château Lacouture in Gauriac in Gironde
A thought to all those connected from France or abroad in love with French cuisine and its wines, here is a great opportunity for you to buy a quality wine, without any risk, to accompany my duck breast recipe with clementines. I selected this Bordeaux Cuvée Carpe Diem 2012 Bordeaux wine from Château Lacouture after tasting it, I loved it.
Côte de bourg 2012 Carpe Diem
This Côte de Bourg on the palate is a dense wine, with a supple attack and a silky but deep substance, nice round tannins, a wine with a deep ruby color and purplish reflections in its youth. The nose is complex, intense and clean, with primary notes of red and black fruits. On the palate, it is a dense wine with a supple attack with some nice notes of round tannins.
Meeting in Gauriac at Château Lacouture for the comic book festival on May 13 and 14, 2017
Chateau Lacouture
3 route du Fronton
37710 Gauriac
Phone: 05 57 64 82 31
Mail: chateaulacouture [at] orange.fr </p