Recipe: Velvety endive and gray shrimp recipe
Easy velouté recipe with a dish of endive or endive soup with gray shrimps. A velouté with slightly sweet confit endive, a recipe for endives different from our habits, you will love this sweet and savory vegetable soup. With the coming season, the endive soup will be welcome not at all bitter, it will surprise all your friends. Shrimp and endive soup, a soup for a special occasion, you will see this soup leaves no one indifferent.
Recipe ingredients
Recipe Velvety endive and gray shrimp recipe For 4 people:
1 kg of chicory
2 nice onions
1.2 chicken broth
80 g butter
25 cl of whipping cream
1 teaspoon of powdered sugar
200 g peeled gray shrimps
Salt and pepper
Instructions
Hull and head the gray shrimp.
Prepare the endives by cutting the section and split them in 2.
Reserve the 3 nicest ones, chop the remains of the endive.
Peel and slice the onion.
In a saucepan, cook 50 g of butter with the onion and endives for 15 minutes.
Salt and pepper add the sugar then cover with the broth and cook for 20 minutes.
Once the vegetables are tender, mix in the broth and add the whipping cream.
Bring the soup up to temperature without boiling it.
Meanwhile, cut the 3 endives lengthwise.
Caramelize them lightly in 30 g of butter and 1 teaspoon of sugar and set aside for the garnish.
Just before serving, put the hot shrimps on your soup as a decoration
Preparation time: 30 minutes
Cooking time: 35 minutes
Number of people: 4
4 star rating: 1reviews
What a wine to drink with endive and gray shrimp velouté
My favorite wine for this recipe Burgundy (white) Grape varieties: Aligoté, Chardonnay, Pinot noir
Temperature between 11 ° and 12 °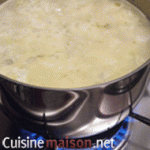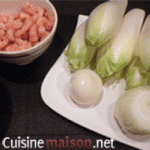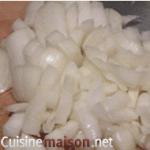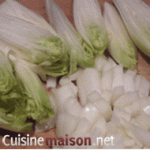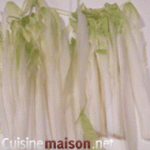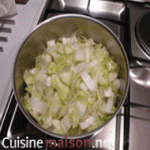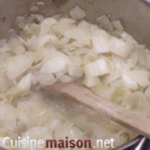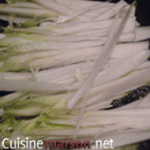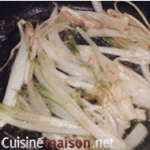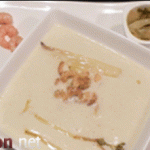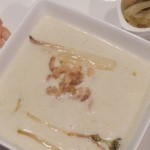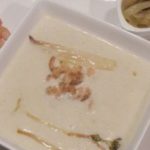 More recipes:
Endive soup

Cream of chestnut soup

Shrimp espuma

Arugula soup
garlic
sour cream
potato
soup and soup Pascal
Hide reactions

Hello,
I thank you for your relevant remarks, indeed I forgot to indicate the weight of shrimp 50 g per person seems to me good. Thank you again for your interest in my work on the site.

super the velvety I did not put the shrimps besides at what point in the recipe they say to put them ????? it is not indicating this is what a guest just told me we tested this soup super, I put the endive caramelized aside and it was appreciated by the guests …… by the way we do not have them quantities of shrimp ???????
Your reactions / questions / tips: Cancel reply
Remark
Name *
Email *
Website
</p