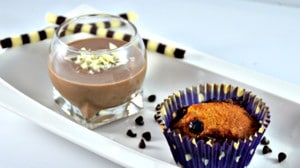 Recipe: English chocolate cream
Chocolate custard recipe, an even more delicious version, you will love this very smooth and divinely scented little cream. A cream that can accompany all your desires, it is divinely greedy not too liquid, with its chocolate taste, it will delight all your guests. A revisited version of the traditional English cream, here it takes on dark colors and becomes all chocolate, so lovers do not hesitate to try this chocolate custard.
Recipe ingredients
English chocolate cream recipe for 6 people:
8 eggs
200 gr of sugar
1 liter of raw milk
1 packet of vanilla sugar
150 g dark chocolate
1 pinch of espelette pepper
Instructions
Separate the egg yolks.
Pour the milk into a heavy-bottomed saucepan, heat.
Add the vanilla sugar and let it boil.
Combine the egg yolks and sugar in a bowl, whisk until the mixture is white.
Then pour 1/4 of the lukewarm milk over the egg yolk mixture.
Beat well with a whisk.
Pour in the rest of the milk.
Transfer the cream to the saucepan of milk.
Heat the cream over low heat.
Stir gently with a wooden spoon, scraping the bottom of the pan well and forming eights, so as not to catch the bottom of the pan.
Your cream should not exceed 82 ° if you do not have a thermometer.
Stop cooking as soon as your cream has thickened, the cream should coat your wooden spoon, check by running your finger over the wooden spoon.
Sift your preparation using a Chinese.
Let the cream cool for about 40 ° to 45 °, hot with your finger.
Break the chocolate during this time.
Add the chocolate to the crème Anglaise and let the chocolate relax.
Sprinkle the chilli
Stir to incorporate the chocolate into the cream.
Cover the surface of your cream with a film and let it cool.
Preparation time: 25 minutes
Cooking time: 3 minutes
Number of people: 6
4 star rating: 1 review
Which wine to drink with: English chocolate cream
My favorite wine for this recipe: Rivesaltes red Grape Grenache Noir
Temperature between 14 ° and 15 °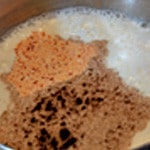 Heat the vanilla and the milk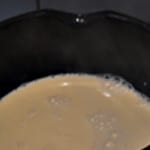 Switch to chinese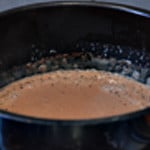 Chocolate cream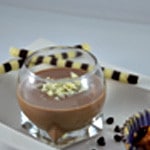 Pour into the verrines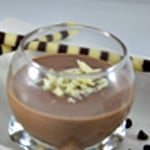 Zoom