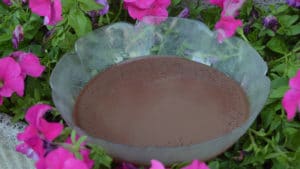 English Cream Chocolate Mousse Recipe
A particular mousse, in fact I used English cream to make my mousse. It was a first try, I will present another proposal to you later. You know, at home we are fond of chocolate, we love it in all its forms and especially in mousse. English cream chocolate mousse, I tested this recipe at a chocolatier in the center of France. We loved its lightness. But I have not yet arrived at this sought-after texture. However, I am already putting it online because we loved this first chocolate mousse with English cream. I think that the next time I will be able to make my mousse, probably with a little whipped cream. But we will talk about it later today, it is the English cream chocolate mousse, which is in the spotlight.
English cream chocolate mousse recipe for 4 people:
Ingredients :
8 eggs
200 gr of sugar
1 liter of raw milk
2 vanilla pods
150 g dark chocolate
Instructions
Separate the egg yolks.
Split the vanilla pods in half.
Scrape the half-pods to collect the grains.
Pour the milk into a heavy-bottomed saucepan, heat.
Add the seeds and vanilla pods and let boil.
Combine the egg yolks and sugar in a bowl, whisk until the mixture is white.
Then pour the boiled milk over the egg yolk mixture.
Beat well with a whisk.
Transfer the cream to the saucepan of milk.
Heat the cream over low heat.
Stir gently with a wooden spoon, scraping the bottom of the pan well and forming eights, so as not to catch the bottom of the pan.
Stop cooking before your preparation begins to boil, the cream should coat your wooden spoon, check by running your finger over the wooden spoon.
Add the crushed chocolate to the hot cream.
Let the chocolate melt, mix gently.
Place in the refrigerator for at least 2 hours.
Preparation time: 30 minutes
Cooking time: 0 minutes
Number of people: 4
4 star rating: 1reviews
Which wine to drink with: English cream chocolate mousse
My favorite wine for this recipe Alsace Muscat late harvest Grape varieties: White Muscat
Temperature between 7 ° and 10 °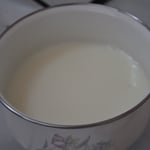 Prepare the English cream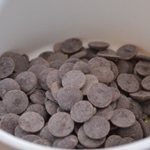 Chocolate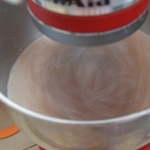 Melt the chocolate in the cream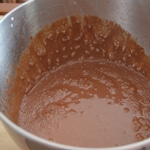 Melted chocolate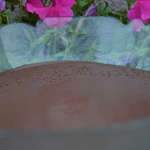 Zoom