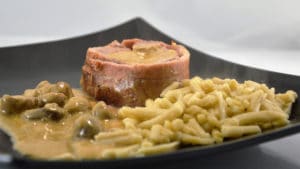 Filet mignon with Comté cheese recipe
I like the pork tenderloin, for this recipe I chose a pork tenderloin raised in Haute Saône: no transport for the animal. A nice Franche-Comté recipe for this filet mignon in the Comté, with this cheese the most famous in France and so tasty, I chose an 18-month-old Comté from the Jura to make my recipe. The cooked Comté has come to add flavor to this pork filet mignon recipe, the ham protects the meat a little when baking in the oven, because the mignon must be served rosé so that it keeps its softness. We are lucky with our region; the flagship products are abundant and of high quality, I love my Franche Comté and welcome the Burgundians who do not have to be ashamed of their wine estates and their cultures
Filet mignon with Comté recipe for 4 people
Ingredients :
1 pork tenderloin
2 slices of smoked ham, thick enough
25 cl of fluid cream
150 g of Comté
15 cl of Jura coast
Instructions
Preheat the oven to 180 °
Trim the filet mignon or have it done by your butcher.
Grill the filet mignon and color it well.
Salt and pepper.
Slice the mignon in half lengthwise, without separating the two pieces.
Slice the Comté into 1 cm thick.
Salt and pepper the fillets inside.
Place the Comté in the center of the mignon sandwich.
Wrap the ham around the garnished filet mignon.
Tie with food twine.
Bake for 20 minutes or a little less if you want it pink.
Preparation time: 30 minutes
Cooking time: 20 minutes
Number of people: 4
4 star rating: 1 review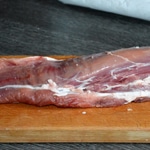 Trim the filet mignon
Salt and pepper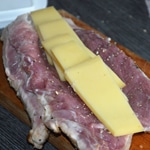 Lay the county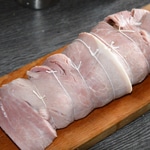 Roll the roti then tie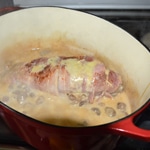 Cook gently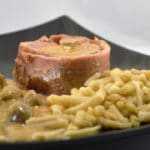 What wine to drink with: Filet mignon with Comté
My favorite wine for this recipe: Côte du Jura Cépages Savagnin, pinot blanc and Chardonay
Temperature between 8 ° and 10 °