Recipe: Wild boar terrine
Recipe for wild boar terrine ideal to start a meal with friends, we served it with pickled cherries. I like to cook and bake the terrines, but I especially like the first moment when the terrine is sliced and it gives off its cooking smell. Not always easy to find wild boar or even wild boar. This year I had to order it in a supermarket, when hunters don't know what to do with it. Wild boar terrine, ideal for the end of year celebrations or a family meal.
Recipe ingredients
Recipe Wild boar terrine for 12 people:
600gr of wild boar
800gr of pork throat
600gr of pork loin
2 carrots
2 large shallots
3 bay leaves
1 tablespoon of peppercorns
5 juniper berries
4 tablespoons of cognac
60 cl of riesling
16 g of salt per kilo of meat
2 g of pepper per kilo
Instructions
Trim the wild boar and cut it into small pieces.
Reserve a strip of meat 2 by 2 cm the length of your mold.
Cut all the pork into cubes
Peel and cut the carrots and shallots into slices.
Arrange the pieces of meat, add 3 bay leaves and the thyme and the vegetables.
Cover with white wine and brandy, all the meat should be covered.
Add the peppercorns, Juniper berries.
Film with cling film and place in the refrigerator for 24 hours.
Chop all the meat as well as all the carrots and shallots from the marinade.
Mix by hand, then weigh.
Salt and pepper.
Respecting the salt and pepper dosages is really important for the balance of your terrine.
Pour part of the marinade.
Place the stuffing at the bottom, then the slice of wild boar.
Place the rest of the stuffing, barely tamp.
Place 3 bay leaves on top of the terrine.
Bake in a cold oven at the start, in a bain-marie for 1h30 at 180 °.
Put a weight on the terrine in order to compact it a little, then remove it, the terrine will suck the juice.
Preparation time: 40 minutes
Cooking time: 1 hour 30 minutes
Number of people: 8
4 star rating: 1 review
What wine to drink with: Wild boar terrine.
My favorite wine for this recipe: Saint Estèphe Grape variety Cabernet franc and sauvignon, merlot
Temperature between 15 ° and 18 °
Thanks to Thibaut for the decoration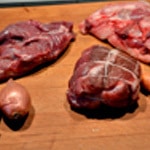 Meats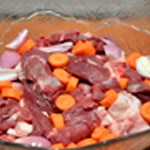 Cut the meats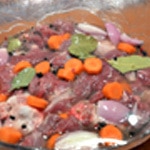 Flavored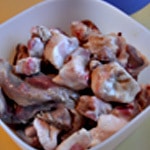 To drain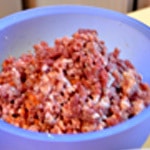 Chop the meat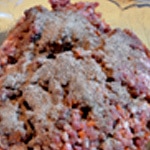 Salt and pepper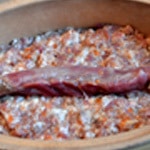 Pack a little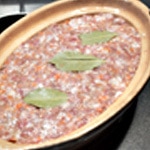 laurel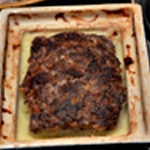 Cooked terrine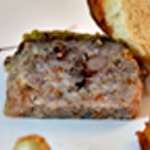 Slice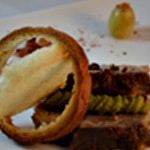 Zoom<img src="/wp-content/uploads/2021/09/2406469246708541933.jpg" class="aligncenter"