Recipe: Grilled giant prawns
Giant grilled prawns with flaked almonds and pine nuts recipe, just to add some crunch and character to this super quick recipe, we were taken by the time for this stealthy lunch. We always have prawns in our freezer, they are an integral part of my kitchen, I also love them on the barbecue. This summer I will try to make carpaccio, if I can find fresh ones. For a super quick recipe my giant prawns were devoured in no time.
Recipe ingredients
Grilled giant prawns recipe for 2 people:
4 Gambas
30 g of flaked almonds
30 g pine nuts
30g butter
1 tablespoon of olive oil
15 leaves of flat-leaf parsley
0.5 g red Sichuan pepper
Instructions
Toast the almonds and pine nuts in the dry pan, stirring all the time.
Add the butter and olive oil to the pan.
Gently place the prawns in the hot fat.
Pour in the almonds and pine nuts.
Turn the prawns as soon as they have changed color.
Serve immediately on hot plates.
Preparation time: 10 minutes
Cooking time: 10 minutes
Number of people: 2
4 star rating: 1 review
What wine to drink with: Grilled giant prawns
My favorite wine for this recipe: Alsace Sylvaner Cépage Sylvaner
Temperature between 08 ° and 10 °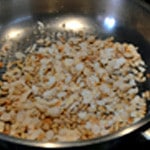 Grill the rice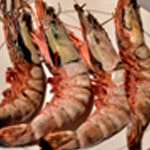 Rinse the prawns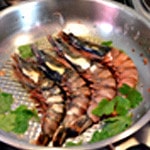 Sear the prawns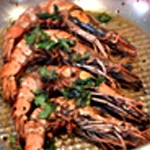 Flip the prawns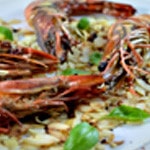 Zoom