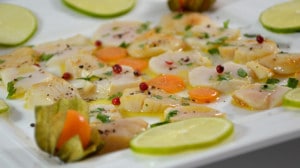 Recipe: Half cooked Saint Jacques carpaccio
Half cooked scallop carpaccio recipe, a recipe that you may find a little weird, but it was on the occasion of a birthday meal of a friend of mine and ordered by his friend. When preparing my carpaccio I wondered if he was eating raw fish… so I decided to grill them for a minute in hot butter, sorry for the purists. The walnuts of Saint Jacques, at home we love them prepared in all ways and particularly in carpaccio. But my favorite recipe is simply cooked in super hot butter and salted with fleur de sel and just a little Espelette pepper, not easy. Half cooked Saint Jacques carpaccio, an easy recipe to make, you don't need to be a great chef to make this recipe a success. 2014 souvenir recipe
Recipe ingredients
Half cooked carpaccio of Saint Jacques for 2 people:
6 Beautiful scallops
½ lime
2 tablespoons of olive oil
30 g salted butter
1 bunch of fresh coriander
Salt flower
1 teaspoon of peppercorns
Instructions
Rinse the nuts under the tap, then wipe dry with food paper.
Slice the scallops into three equal slices.
Rinse the cilantro, then wipe dry with food paper.
Heat the pan with the salted butter.
Place the coriander in the very hot butter and cook gently.
Sear the scallops in very hot butter for ½ minutes on each side.
Place the scallops harmoniously on the plate.
Squeeze the juice from the ½ lemon.
Pour the juice over the scallops.
Carefully pour the oil over the nuts.
Season with fleur de sel.
Pepper with coarsely crushed peppercorns.
Leave to stand for one to two hours.
Serve very chilled.
Preparation time: 15 minutes
Cooking time: 1 minute
Number of people: 2
4 star rating: 1 review
What wine to drink with: Carpaccio de Saint Jacques half cooked
My favorite wine for this recipe: Chablis Cépage Chardonnay
Temperature between 08 ° and 10 °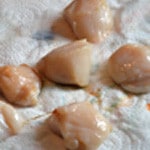 Dry the scallops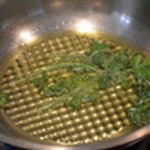 Heat the fat with the coriander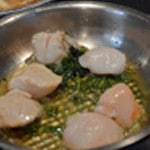 Seize the St Jacques
Store the St Jacques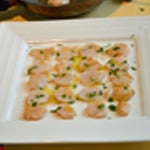 Zoom