Abstract :It's already been a while, that my son asked me for homemade burgers, this time I started. Of course not the right to crash, I was expected at the turn, I chose a red wine sauce, worthy of French cuisine and a bun recipe, from my favorite baker, all these breads are always a success, there not too much concern. Often burgers are overwhelmed by countless more or less expensive sauces that are far too fatty. For my homemade burgers, I chose a red wine and butter sauce, but I halved the butter using cornstarch sauceline. I took beef from a farm that offers organic meat, great taste and beautiful color, a great success. Homemade hamburger recipe for: 3 people
Ingredients :
600 g of ground beef (or have it done by your butcher)
3 buns
2 onions
1 teaspoon of brown sugar
40g butter
2 shallots
½ teaspoon of Sichuan pepper
A few red berries
50 cl of red wine
10 cl of white wine
1 teaspoon of sauceline (Cornstarch)
Instructions
Prepare the buns from 8:30 am to respect the shoots, or prepare the day before.
Wash and then wring out the salad.
Prepare the wine sauce by adding a little line sauce, so that it is not too heavy.
Chop the beef, to make homemade steaks
Form the steaks into circles and press them with a small press the diameter of your circles.
Peel and finely chop the onions.
Heat the pan with half the butter.
Add the onions and let them become translucent, without coloring.
Add the white wine and reduce until almost dry.
Pour the sugar over the onions and let caramelize a little.
Slice the buns in half.
Heat a pan with the rest of the butter.
Place the steaks in the hot butter, season with salt and pepper.
Flip the steaks and season with salt and pepper.
Place a large tablespoon of caramelized onions.
Pour the sauce over the onions.
Place the pieces of salad leaves.
Place the steaks on the sauce.
Add the rest of the onions.
Cover generously with the sauce, it should overflow a bit.
Place the other half of the bun.
Enjoy without delay.
Preparation time: 60 minutes
Cooking time: 10 minutes
Number of people: 3
4 star rating: 1 review
What wine to drink with: House burgers
My favorite wine for this recipe: Côte du Rhône Grapes Syrah
Temperature between 08 ° and 10 °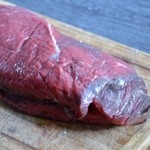 Slice the meat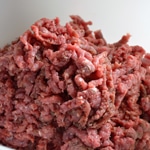 Chop the meat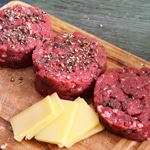 Squeeze the meat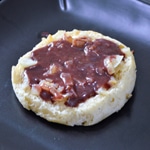 Pour wine sauce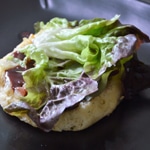 Add salad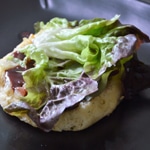 Lay the meat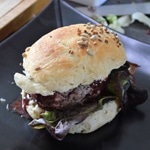 Cover with half a bun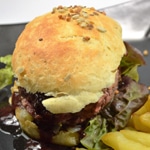 Zoom<img src="/wp-content/uploads/2021/09/7838766047372305058.jpg" class="aligncenter"