<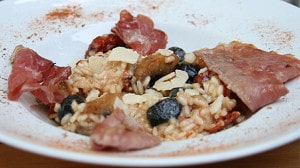 Recipe: Italian Risotto
Italian Risotto recipe, I like to cook this kind of recipes. I love these recipes full of different flavors and fragrances, I love all these different bites where we discover new nuances each time. Italians are the undisputed masters of pasta but they are also very good in risotto and of course pizzas. It's impossible to talk about Italian cuisine without talking about pizzas. Here it is the cold meats that are in the spotlight. Unfortunately they come from supermarkets, not from a small Italian store in Vesoul. No waiter who sings to sell you his products, nor a beautiful Italian who gives you a big smile when you come in. Well, I think it's time to go back to Italy for a few days.
Recipe ingredients
Italian Risotto recipe for 6 people:
250 g Arborio rice
4 large mushrooms
1 jar of green olives
1 jar of black olives
80 g speck ham
80 g of coppa
180 g sundried tomatoes in oil
100 g grated Parmesan
1 onion
2 shallots
1 veal broth
Instructions
Peel the onion and shallots.
Cut finely.
Brush the large mushrooms then cut into 8 quarters.
Add two tablespoons of oil from the sun-dried tomatoes to the pan.
Sear the mushrooms in a very hot pan, the water should evaporate as you go.
Slice the sun-dried tomatoes into strips.
Add the sliced tomatoes at the end of the mushroom cooking.
Pour the black and green olives into the pan.
Keep the vegetables warm.
Sear the charcuterie for a few seconds, without letting it toast, then set aside with the vegetables.
Pour the rice into the pan without washing it, stirring constantly.
Prepare 1 ½ times the volume of rice for the water and add the broth.
Add half of the water directly to the rice.
Pour the water as it disappears.
Add the vegetables after 15 minutes, so that they heat up
Add the Parmesan just before serving.
Enjoy very hot.
Preparation time: 20 minutes
Cooking time: 15 minutes
Number of people: 6
4 star rating: 1 review
What wine to drink with: Italian Risotto
My favorite wine for this recipe: Red Burgundy Pinot Noir grape
Temperature between 11 ° and 15 °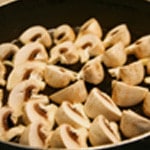 Sear the mushrooms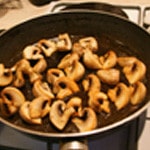 Flip the mushrooms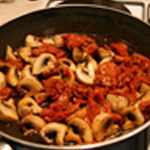 Add the sundried tomatoes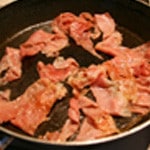 Sear the cold cuts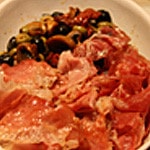 Keep warm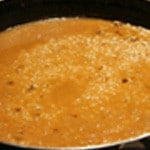 Cook the rice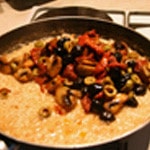 Add the preparation at the end of cooking.
Add the parmesan