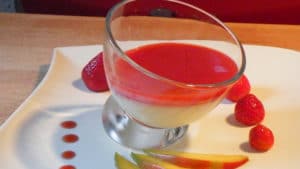 White chocolate panna cotta and strawberry coulis recipe
Coming from Italy, panna cotta carries everything in its path, it is no longer a fashion, it is a classic. Not very sweet, it goes wonderfully with white chocolate and all the red fruits! Try it, it's surprising, you will love this dessert which can also be prepared a day or two in advance. If the agar agar is well dosed, this cream is soft, they are in the mouth. Panna cotta with white chocolate and strawberry coulis, for a dessert in summer, with strawberries from the garden, it's even more devilish, it can be eaten in no time.
White chocolate panna cotta and strawberry coulis recipe for: 8 people
Ingredients :
220 gr of white chocolate (do not add too much chocolate)
500 gr of strawberries
30 gr of icing sugar
1 l of fresh cream at 30% (for diets you can take a lighter cream)
1 teaspoon of Agar Agar (you can do this with gelatin)
Instructions
Cook your cream in a saucepan as soon as the first bubbles appear.
Add the agar Agar (or gelatin) be careful, this is a product that must be dosed well.
Let it boil again.
Add the chocolate, which you will have broken beforehand, off the heat.
Let the chocolate melt slowly in your saucepan.
Gently pour the melted chocolate into your verrines (you can use a funnel to avoid splashing).
Let cool and refrigerate for at least 4 hours.
Mix the strawberries dry by adding just the icing sugar, once well milled, pass it through a Chinese to obtain a smooth paste.
Cover your verrines just before serving, use your funnel to have verrines without any trace.
Preparation time: 20 minutes
Cooking time: 5 minutes
Number of people: 8
4 star rating: 1 review
What wine to drink with: Panna cotta with white chocolate and strawberry coulis
My favorite wine for this recipe: Champagne Grapes Chardonnay and Pinot blanc
Temperature between 08 ° and 10 °