Recipe: Pike in court bouillon
Pike recipe in court bouillon, Court bouillon for cooking a beautiful pike from our rivers, I am lucky to have a great fisherman as a friend, he is the king of the pike. To cook a pike, the pike cooking is particularly fast under 10 minutes, but they will be delicately flavored during the few minutes of cooking. The best way not to miss cooking is to start cold, then gradually increase the temperature, while watching your pike. The fish lend themselves well to cooking in court bouillon.
Recipe ingredients
Pike recipe in court bouillon for 10 people:
2 pikes of 1.0 kg
4 l of court bouillon
6 eggs for decoration
6 cherry tomatoes
A little salad
Instructions
Prepare the court bouillon, then let cool.
Scale the pikes.
Empty the pike, once scaled.
Rinse the pike thoroughly under the tap to remove all traces of blood.
Place the pikes in the fishmonger.
Cover the pike with the cold court bouillon.
Light two fires under the fishmonger and watch as soon as the court bouillon boils.
Remove the pikes as soon as you have obtained the desired doneness.
Preparation time: 30 minutes
Cooking time: 10 to 15 minutes
Number of people: 10
4 star rating: 1 review
What wine to drink with: Pike in court bouillon
My favorite wine for this recipe: Crozes Hermitage blanc Cépage Marsanne; Roussanne
Temperature between 08 ° and 10 °
Thanks to Léonie for the photos and Philippe for the pikes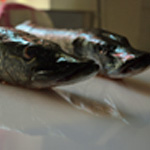 Pike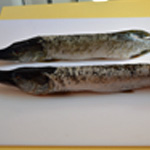 Rinse the pike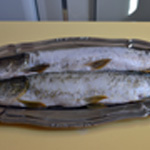 Exit 30 minutes before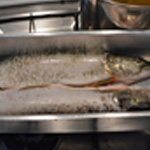 Store in the fishmonger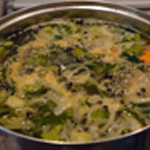 Let cool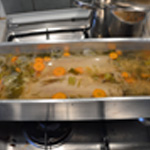 Cook attention fast cooking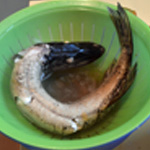 Cooked pike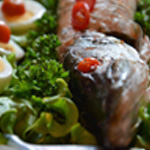 Zoom