Bacon lamb's lettuce pizza recipe
Lamb's lettuce pizza, a nice green pizza, the lamb's lettuce has suffered a bit, but it has deliciously flavored the pizza. Nothing like a homemade pizza dough. Mine is crispy we love it, even raw. We love pizzas at home with all the ingredients, but cheese pizza is still our favorite. A pizza for a change, bacon lamb's lettuce pizza, you are going to love this little touch of green.
Recipe ingredients
Bacon lamb's lettuce pizza recipe for 3 people:
6 tablespoons heavy cream or liquid
250 gr of smoked bacon
100 gr of Gruyere
2 teaspoons of dried coriander
3 eggs
1 teaspoon of hot oil
Instructions
Preheat the oven to 220 °
Rinse the lamb's lettuce.
Cut the cheese into thick slices
Make your pizza dough.
Divide your dough into three.
Roll out the pizza dough taken out of the refrigerator 1 hour before.
Distribute the heavy cream or liquid.
Distribute the bacon over the entire surface.
Add the cheese slices.
Add the lamb's lettuce all over the place.
Spread the dried oregano on the pizza.
Pour a little hot oil on the pizza
Bake in a hot oven for 15 minutes.
Break the eggs without piercing them.
Take out the pizza and add the eggs.
Bake for another 10 minutes.
Preparation time: 30 minutes
Cooking time: 25 minutes
Number of people: 3
4 star rating: 1 review
What wine to drink with: Pizza bacon chews
My favorite wine for this recipe: Rosé d'Anjou Grape Cabernet Franc and Sauvignon
Temperature between 08 ° and 10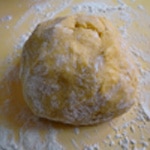 Let rest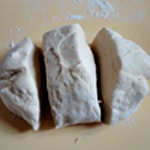 To separate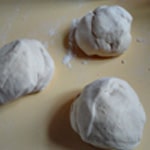 Form balls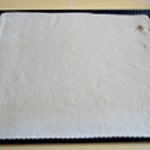 Roll out the dough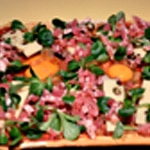 Zoom