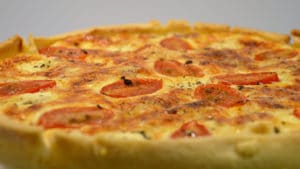 Raw ham pie recipe
An easy pie to make, it will be ready in fifteen minutes, the ham is the perfect flavor for this delicious raw ham pie. I recovered a heel of Sérrano ham from Spain in my hypermarket, which considerably reduced the recipe. The cherry tomatoes, sliced and decorated with a drop of olive, will gently candy in the oven. I like savory pies, for a family dinner accompanied by a beautiful red oak salad, just drizzled with a drizzle of salted and peppered olive oil. My daughter told me (and it made me happy) that this raw ham pie was the best savory pie I had made, a little moment of happiness for me, she is so used to my cooking… .J I chose a Rosé from Franche Comté to accompany it from the Jacques Tissot house in Arbois.
Raw ham pie recipe for 4 people: 24 cm pie mold
Ingredients
300 g of homemade dough
200 g flour
100 g of margarine
5 cl of water
1 teaspoon of powdered sugar
200 g heavy cream
100 g of raw milk
2 eggs
120 g of raw ham (I used a heel)
90 g grated Emmental
6 cherry tomatoes
12 drops of olive oil
12 cubes of Feta in oil.
4 turns of a pepper mill
Instructions
Prepare the homemade dough, for the recipe click on the link, then place it in the refrigerator while it is being prepared
Preheat the oven to 200 °.
Skin and thinly slice the raw ham
Mix the cream and the milk in a bowl.
Break the eggs.
Add half of the Emmental and the cured ham.
Mix everything together using a wooden spatula.
Flour the work surface.
Roll out the pie crust.
Roll the dough onto the rolling pin and roll out onto the pie plate.
Darken the dough, leaving an edge of 2 cm.
Prick the bottom of the pie with a fork.
Pour the creamer into the pie.
Sprinkle with the rest of the Emmental.
Slice the cherry tomatoes in half lengthwise.
Place the cherry tomatoes, cut side, on top.
Pour a drop of olive oil on each half of a tomato.
Place a cube of feta between each tomato.
Bake in the hot oven low position for 40 minutes.
Let cool a little before unmolding.
Enjoy lukewarm.
Preparation time: 15 minutes
Cooking time: 40 minutes
Number of people: 4 for a 24 cm tart mold
4 star rating: 1 review
What wine to drink with: raw ham pie
My favorite wine for this recipe: Rosé de Franche Comté Pinot noir grape
Temperature between 08 ° and 10 °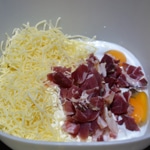 Mix the ingredients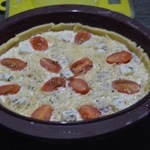 Ready to cook