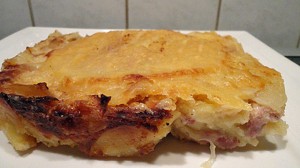 Recipe: Tartiflette with reblochon
To make a tartiflette, nothing could be easier, it is the oven that will work for you, I chose the wine for tartiflette un coteau du Lyonnais. Choose a farmer reblochon for your homemade tartiflette, it is the tartiflette cheese used. The real tartiflette must be made with farmer's reblochon, it is gratin and creamy. Use an earthenware tartiflette dish to bake your homemade tartiflette. The traditional tartiflette a dish to eat in winter.
Recipe ingredients
Recipe Tartiflette with reblochon for 10 people:
2 kg 100 of potato
600 g smoked bacon
3 reblochons of 500 g
600 g onion
15 cl of white wine
15 cl of fluid cream
Instructions
Peel the potatoes.
Cut the potatoes into thin strips
Butter a baking dish.
Peel the onions.
Cut the onions into thin slices
Cut the reblochons in half.
Mix the potatoes, onions and bacon in the buttered dish.
Add the fluid cream, salt and pepper.
Pour in the dry white wine.
Place the two half reblochon on the preparation.
Place in a hot 160 ° oven for 45 minutes
Crush the cheese crust with a tablespoon to mix the grilled cheese with the potatoes.
Place the other reblochon cut in half and cook for 45 minutes.
Crush the cheese crust with a tablespoon to make it penetrate the cheese into the preparation.
Preparation time: 40 minutes
Cooking time: 90 minutes
Number of people: 10
4 star rating: 1 review
What wine to drink with Reblochon Tartiflette
Favorite wine for this recipe: Coteau du lyonnais Grape Gamay
Temperature between 8 ° and 9 °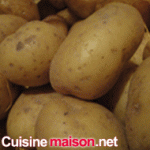 Peel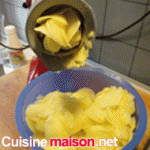 To slice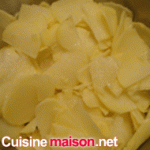 Potato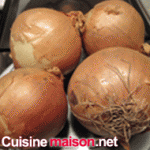 Onions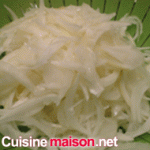 To slice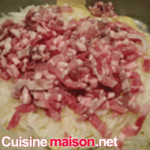 Bacon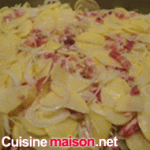 Cut the cheese
Place in the dish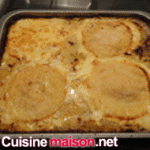 Cooked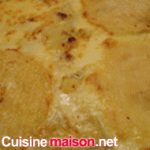 Zoom