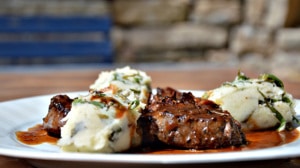 Recipe: Rib and venison fillet
Recipe for venison tenderloin, grand veneur sauce, a real delight, often reserved for special occasions. At home we love game, but no hunter in the family so there are few occasions to eat it. I like these dishes with a generous sauce, very smooth and a lot of character, slightly sweet and tangy at the same time. It is perfectly suitable for the end of the year celebrations, rib and venison fillet no matter what I fall for the two pieces, what I like more are the plates that come back clean. But it's not always easy to find venison fillet.
Recipe ingredients
Rib of venison fillet for 2 people:
400 g Ribs of tenderloin
2 shallots
2 garlic
Roe deer rib adornments
1 teaspoon of redcurrant jelly
1/4 Madira red wine
1 teaspoon of tomato paste
50 g butter
Instructions
Sear the trimmings with the shallots and garlic.
Add the jelly and the brown stock
Pour the wine.
Add a glass of water.
Add the teaspoon of tomato puree
Simmer the sauce for an hour, without covering it.
Add the jam.
Reduce the sauce by half.
Sear the ribs in the hot butter and let brown well.
Serve in hot plates, put the meat on top and generously cover with the sauce.
I accompanied it with mashed sorrel with a fork.
Preparation time: 30 minutes
Cooking time: 15 minutes
Number of people: 2
4 star rating: 1 review
What wine to drink with: Rib of venison fillet
My favorite wine for this recipe: Madiran red Cépage Tannat, Cabernet Franc and Sauvignon
Temperature between 16 ° and 17 °
Thanks to Kiki for this recipe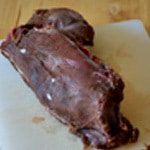 Take out the net for an hour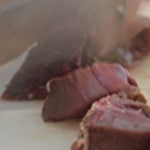 Slice the fillet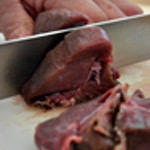 Use a sharp knife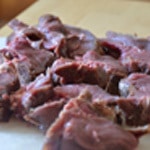 Season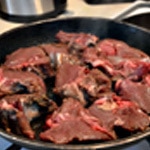 Grab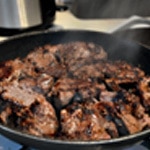 Turn over and grab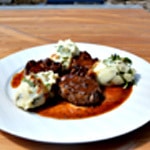 Zoom