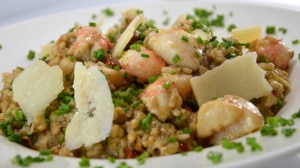 Recipe: Risotto with langoustines and scallops
Recipe for risotto of langoustines and St Jacques, I like this rice which will cook gently in the juice of the langoustines and come to be divinely perfumed, in order to make our palate explode with happiness. Shave a little Parmesan cheese and place it on the risotto just before serving, in fact it should not heat up. Risotto at home is always a highlight. We love it, we love to savor it with meat, vegetables or fish, it doesn't matter, we love it every time. Use quality rice to obtain a high quality risotto. My favorite, without advertising is the Arborio. It sublimates my risotto of langoustines and St Jacques. The marriage of langoustines and scallops is almost devilish, we loved this risotto with the powerful taste of the sea.
Recipe ingredients
Lobster and scallop risotto recipe for 4 people:
300gr of Arborio rice
600 gr of langoustines
8 scallops
20 cl of white wine
100gr of parmesan
100gr of mascarpone
50 g of parmesan in pieces
1 onion
2 cloves garlic
10cl of olive oil
1 chicken broth
1 teaspoon of paprika
1 bunch of chives
Salt and pepper
Instructions
Destroy the langoustines.
Peel the onion and garlic cloves and finely chop them.
Rinse the chives, then finely chop.
Heat a pan with olive oil
Sauté the onion and garlic.
Grill the scampi shells.
Transfer the shells to a saucepan without cleaning the pan.
Pour the wine over the shells.
Salt and pepper, cook for an hour.
Crush the heads at the end of cooking.
Filter the cooking juices from the shells with a Chinese.
Pour the rice into the pan, brown while mixing with a wooden spatula.
Cover with simmered juice from the shells.
The broth should barely cover the rice.
Gradually add the broth so that the rice is always covered.
Let the rice cook for 15 to 20 minutes on a low heat, it should just simmer, watch that there is no lack of liquid.
Add the Parmesan 5 minutes before the end of cooking.
Sear the langoustines in the pan with butter just before serving.
Add the scallops to the pan.
Add the mascarpone, then add everything to the rice.
Sprinkle the plates with chives.
Grate parmesan shavings and serve
Preparation time: 30 minutes
Cooking time: 18 minutes
Number of people: 4
5 star rating: 1 review
What wine to drink with: Risotto of langoustines and scallops.
My favorite wine for this recipe: Châteauneuf du Pape, Grape variety: Grenache, Syrah, Mourvèdre
Temperature between 16 ° and 18 °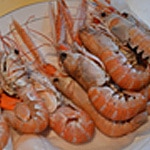 Destroy the langoustines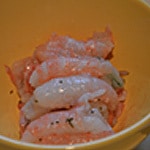 Langoustines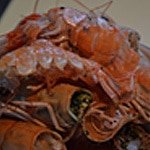 Reserve carcasses and heads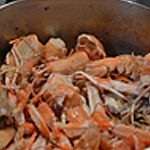 Seize them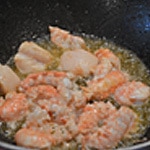 Sear the langoustines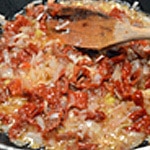 Add the tomatoes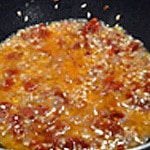 Wet the rice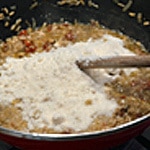 Add the parmesan<img src="/wp-content/uploads/2021/09/6702442144869201818.jpg" class="aligncenter"