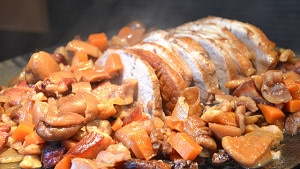 Recipe: Roast Pork with Chestnuts
Roast pork with chestnuts, I like this meat that cooks with vegetables and in the sauce. An original way to cook a roast in the fillet without it being dry and deliciously fragrant. A good roast cooked in a cast iron casserole dish, under a gentle flame, it simmers and is delicately flavored. I like roast pork with chestnuts, but it needs to simmer gently under a very low heat, so that the meat is flavored as it is cooked. I used a white Burgundy to cook it and serve with my chestnut roast pork.
Recipe ingredients:
Chestnut roast pork recipe for 5 people:
1 kg of roast pork in the loin
420 gr of fire-peeled chestnuts in jars
4 cloves of garlic
2 large onions
2 carrots
1 shallot
35 cl of white wine
1 tablespoon of olive oil
1 Maggi chicken broth
1 clove
½ teaspoon ground ginger
½ teaspoon of curry
Salt and pepper
Instructions
Peel the onions, then cut into quarters, then into strips.
Peel the carrots, then cut lengthwise into quarters and then into cubes.
Heat a cast iron casserole dish with 1 tablespoon of olive oil over medium heat.
Grill the roast pork on all sides without letting it burn.
Peel and mince the shallot and garlic, then grill with the roast.
Add the chopped onions and carrots.
Add the chestnuts
Pour the white wine and water with the broth, scrape well with a wooden spoon to loosen the juices at the bottom of the casserole dish.
Season with the ginger and curry powder.
Cook the roast for 2 to 3 hours under a low heat, watching from time to time.
Preparation time: 40 minutes
Cooking time: 120 minutes
Number of people: 5
4 star rating: 1 review
What wine to drink with: Roast pork with chestnuts
My favorite wine for this recipe: Bourgogne Blanc Grape variety: Chardonnay.
Temperature between 10 ° and 12 °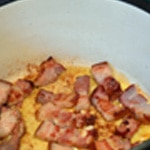 Grill the bacon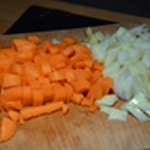 Cut onions and carrots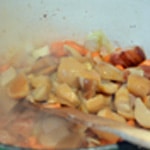 Add the mushrooms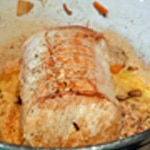 Sear the roast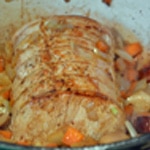 Add the vegetables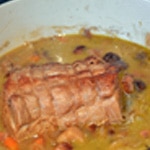 Pour the cream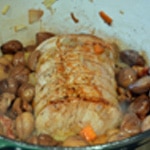 Add the chestnuts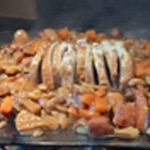 Zoom