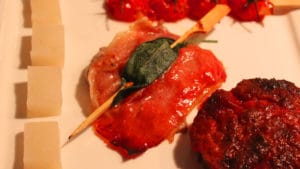 Saltimbocca alla Roma recipe
Summary : At home, we particularly appreciate veal and especially Italian cuisine. With this veal schnitzel I made my first saltimbocca alla Roma, memory of a visit to Rome. Veal cutlet recipe, choose your butcher at home, it must be of high quality and remain very tender. Veal cutlets are an easy recipe. Saltimbocca alla Roma a recipe that can be accompanied by fresh pasta with butter, no need for sauce the flavor of Saltimbocca will suffice.
Saltimbocca alla Roma recipe for: 4 people
Ingredients :
4 thin veal cutlets
4 slices of Parma ham or similar
12 fresh sage leaves
100 g butter
10 cl of white martini or a mellow sweet wine
10 cl of white wine
Salt and pepper
Instructions
Flatten the veal cutlets using a large flat knife and a roller, On a paper towel.
To tenderize and especially to obtain a very fine cutlet.
Place a sage leaf then a slice of Parma ham.
Finish with a sage leaf and hold everything with a wooden pick.
In a hot pan, heat the butter.
Sear the cutlets on each side over low heat for 2 to 3 minutes.
Keep warm in the oven at 80 °.
Deglaze the pan with the martini and white wine.
Reduce your sauce, then add the Saltimbocca to the pan and serve.
Preparation time: 10 minutes
Cooking time: 6 minutes
Number of people: 4
4 star rating: 1 review
What wine to drink with: Saltimbocca alla Roma.
My favorite wine for this Rully red recipe Grape variety: Pinot noir
Temperature between 08 ° and 10 °