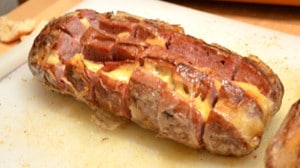 Recipe: Sausage with Comté and Savagnin cabbage
Sausage with Comté and Savagnin cabbage recipe, a Franc comtoise recipe with lots of character. The cabbage sausage is special with its texture and its cabbage flavor, enhanced with country ham and aged Comté, cooked with Savagnin which will finish to flavor this dish of great day. Slightly au gratin, the sausage will take on all its aroma during cooking. It will embalm the whole kitchen, for the pleasure of the guests.
Recipe ingredients
Sausage recipe with Comté and Savagnin cabbage for 4 people:
2 Morteau sausages with cabbage
200 g of aged Comté
20 cl of savagnin
4 slices of country ham
1 strainer
Instructions
Soak the strainer in lukewarm water.
Preheat the oven to 100 °.
Cook the sausage in a large broth of cold water and simmer gently.
Cut the sausage lengthwise into three parts, without completing the cut.
Slice the ham lengthwise in three.
Place a third of a slice per cut in the sausage.
Slice the Comté lengthwise to obtain 6 slices.
Place the Comté along the ham.
Wrap the sausages with the strainer.
Place the sausages in a baking dish.
Pour the wine into the dish.
Bake in a hot oven for 30 minutes.
Preparation time: 30 minutes
Cooking time: 30 minutes
Number of people: 4
4 star rating: 1 review
What wine to drink with: Comté and Savagnin cabbage sausage
My favorite wine for this recipe: Savagnin Cépage Savagnin
Temperature between 08 ° and 10 °
Thanks to Kiki for this recipe
Ingredients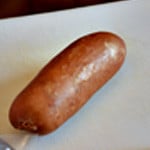 Morteau sausage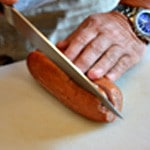 Slice the sausage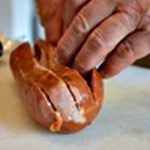 3 times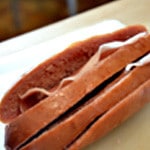 Spread the notches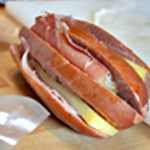 Add ham and Comté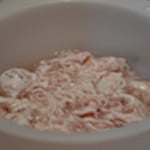 Soak the toilet in water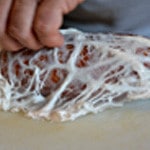 Wrap around the sausage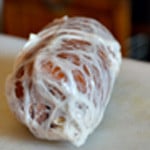 Dressed sausage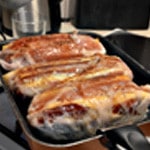 Cook in the oven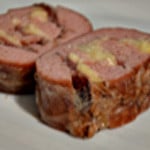 Slice before serving