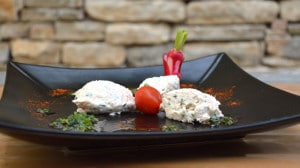 Recipe: Sea bream terrine
Recipe for sea bream terrine, for a nice starter with crab and salmon, it is super smooth. The terrine takes a step ahead of the cooked terrines, in fact the fact of not cooking the cream and the mascarpone, it remains very fresh and very pleasant to the palate. Terrine of sea bream for hot weather to serve very cold, it will satisfy your guests.
Recipe ingredients
Sea bream terrine recipe for 6 people:
1 salmon steak
1 gray sea bream
200 g of prawns
121 g canned crab
2 sprigs of tarragon
½ teaspoon ground pepper
1 knife tip of ginger
10 g chives
1 teaspoon of fish stock
250 g of Mascarpone
10 cl of liquid cream
1 g of agar agar
Instructions
Rinse the fish, then wipe dry with food paper.
Rinse the chives, then finely chop.
Rinse the tarragon then remove the leaves.
Crush the peppers into grains.
Place the tarragon leaves on the salmon, season with salt and pepper.
Place the tarragon stems in the sea bream, salt and pepper.
Pour a drizzle of olive oil over the fish.
Place in the oven for 10 minutes at 200 °.
Let the fish cool.
Remove the leaves from the fish, removing all the bones, add the drained canned crab.
Add the ginger and crushed pepper
Add the chives and mascarpone.
Heat the cream, add the agar agar as soon as the cream boils, whip then stop.
Mix to incorporate all the ingredients.
Spend half an hour in the refrigerator.
Form quenelles with two spoons, just before serving.
Preparation time: 15 minutes
Cooking time: 10 minutes
Number of people: 6
4 star rating: 1 review
What wine to drink with: sea bream terrine
My favorite wine for this recipe: Beaujolais village blanc Cépage Chardonnay
Temperature between 08 ° and 10 °
Thanks to kiki for these beautiful dumplings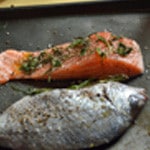 Season the fish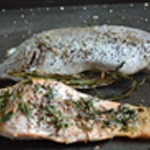 Cook the fish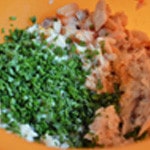 Emitting the fish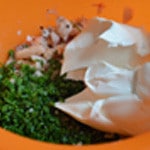 Add the mascarpone
Pour the cream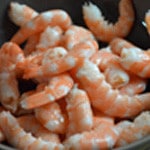 Destroy the shrimps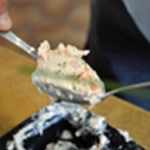 Make dumplings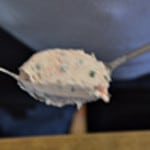 A nice quenelle