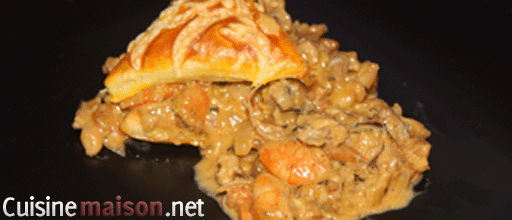 Seafood crumble
Summary: Seafood crumble or seafood crumble, a nice starter with a special flavor, I like this wine sauce and this taste of iodine, the sea is not far away. Easy fish recipes, there's something to please the whole family with this seafood crumble. Easy seafood gratin, although seafood is frozen for this recipe. You could also grill the heads of the shrimp in a little wine, to make the sauce.
Ingredients
Seafood Crumble Recipe for: 4 people
500 g frozen seafood
600 g of prawns
3 teaspoons of olive oil
1 glass of white wine
25 cl of fluid cream
1 white onion
4 sprigs of flat-leaf parsley
2 sprigs of coriander
1 tablespoon of sweet paprika
Instructions
Remove the shrimp from the shell.
Heat the pan.
Add 2 tablespoons of olive oil and the paprika.
Allow the spice to heat up until it gives off a good smell of paprika.
Add the shells and heads to the pan, let them grill.
Cover with white wine and let reduce.
Filter the juice through a Chinese and set aside.
Bring the pan up to temperature with a tablespoon of olive oil.
Chop the onion into small pieces.
Brown it in a hot pan with the chopped parsley.
Add the seafood and shrimp.
Add the cream.
Simmer gently until the juice has almost completely evaporated.
Enjoy hot.
Preparation time: 20 minutes
Cooking time: 20 minutes
Number of people: 4
4 star rating: 1 review
What wine to drink with: Seafood crumble
My favorite wine for this Chablis Grape variety recipe: Chardonnay
Temperature between 8 ° and 10 °