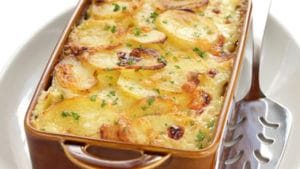 Simple Gratin Dauphinois
Simple Gratin Dauphinois recipe
The simple gratin Dauphinois I love, a recipe for the gratin Dauphinois without cheese, as tradition dictates. A simple gratin dauphinois with a long oven cooking, sprinkled with butter to color the dish, the potatoes will be flavored. The gratin dauphinois is the king to accompany all the dishes in sauce, sauce or fish, always a great effect when it arrives at the table. Several potatoes are suitable for this kind of gratin, but I am a fan of Agate potatoes and particularly for making a simple gratin Dauphinois.
Gratin Dauphinois recipe for 4 people
Ingredients :
800 gr of Agate potatoes
50 cl of fluid cream
20 cl of whole milk
½ teaspoon ground nutmeg
4 sprigs of thyme
10 gr of butter
2 sprig of flat-leaf parsley
Salt and pepper
Instructions
Wash and cut the potatoes into very thin slices.
wash and finely chop the flat parsley.
Butter a dish and store the wiped potatoes
Add a few sprigs of thyme and nutmeg to each layer
Pour in the milk mixed with the salt and pepper cream.
Sprinkle with butter and flat-leaf parsley
Place in the oven at 160 ° for 2 hours.
Preparation time: 30 minutes
Cooking time: 120 minutes
Number of people: 4
4 star rating: 1 review
What wine to drink with: Gratin Dauphinois simple

My favorite wine for this Touraine rouge recipe Grape variety: Cabernet Sauvignon; Cabernet Franc ; Gamay
Temperature between 15 ° and 16 °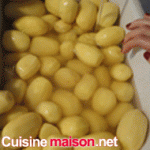 Wash the potatoes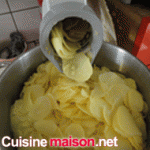 Slice the potatoes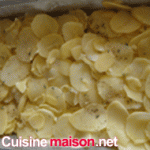 Store the potatoes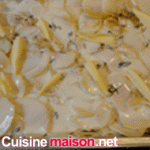 Cream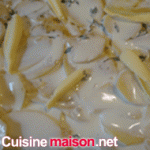 Butter