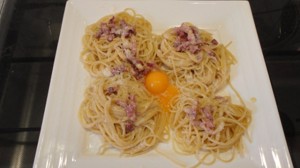 Recipe: Carbonara Spaghetti
Carbonara spaghetti recipe for an evening meal, a pasta dish that kids love, you can also make them with ham. We had collected fresh eggs from the village farm, their yolks leave no doubt about their qualities and freshness. I love the spaghetti by wrapping them around my fork, to always enjoy them in small bites, with the carbonara spaghetti they are slightly creamy and slide divinely in the mouth. For this carbonara spaghetti recipe, you can't miss it, children love it, but so do adults.
Recipe ingredients
Spaghetti with carbonara recipe for 4 people:
400g dry spaghetti
350 g smoked bacon
1 tablespoon of olive oil
Salt and pepper
8 sage leaves
Instructions
Heat the pan to brown the bacon, without letting them burn.
Reserve the bacon as soon as they are cooked, in the oven at 80 °.
Pour the fluid cream into the pan to collect all the juices.
Scrape with a wooden spoon around the pan, gently simmer the cream.
Salt and pepper.
Cook your spaghetti in a large boiling volume and season with salt.
Add a spoon of olive oil as soon as the water simmers.
Place the spaghetti upright in the pot, then turn in a circle to distribute the pasta evenly.
Lower the heat as soon as the water boils, it should just simmer.
Watch the cooking time advertised on the package.
Pass your pasta through a large colander as soon as it is cooked.
Return the pasta to the hot pot and cover to keep the spaghetti warm.
Preparation time: 20 minutes
Cooking time: 3 to 5 minutes
Number of people: 4
4 star rating: 1 review
What wine to drink with: Spaghetti carbonara
My favorite wine for this Fitou Grape variety recipe: Carignan; Grenache noir, Syrah
Temperature between 16 ° and 17 °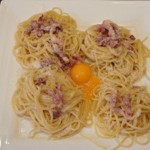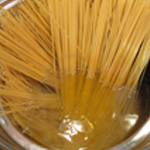 Cook the pasta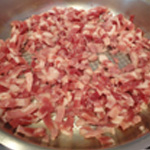 Sear the bacon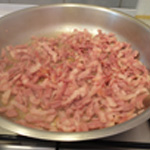 Turn the bacon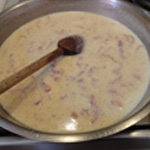 Cream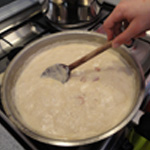 Let thicken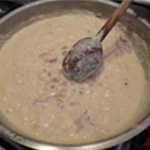 Ready sauce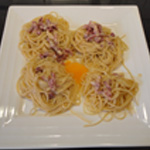 Crack the egg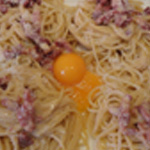 Zoom