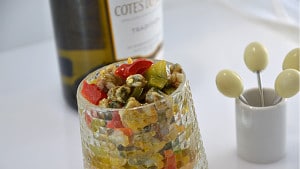 Recipe: Cockles in white wine
Recipe for cockles in white wine, another great idea for entertaining friends, I think you have understood it for a long time, aperitifs last at home… .. We are deprived of the sea, so these products

Often found on the table, the white wine cockles with peppers brought a lot of color to the table. I remember as a child we used to go to the ocean beaches in

the Morbihan for cockle fishing. What a child pleasure to find his first shell, it was the one who picked up the most. Thank you mom and René for these moments of happiness which pass too quickly …….
Recipe ingredients
White wine cockles recipe for 6 people:
500 gr of cockles
1/4 red pepper
1/4 green pepper
25 cl of white wine
1 gr of curry
1 gr of mold ginger
2 gr of Espelette pepper
1 tablespoon of olive oil (optional)
1 teaspoon of lemon juice
Instructions
Disgor the cockles the day before in a large volume of water.
Rinse the hulls under the tap to remove the sand.
Cut the peppers into small cubes.
Lightly grill the peppers.
Heat a saucepan with the white wine.
Throw the shells in very hot wine.
Remove as the shells open.
Mix the spices, peppers and cockles.
Add the olive oil, I did not do it, so that the recipe remains lighter.
Add the lemon , then reserve fresh.
Preparation time: 30 minutes
Cooking time 5 minutes
Number of people: 6
4 star rating: 1 review
What wine to drink with: White wine cockles recipe
My favorite wine for this recipe: Macon village blanc Cépage Chardonnay
Temperature between 10 ° and 11 °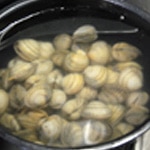 Disgorging the cockles
Cook the cockles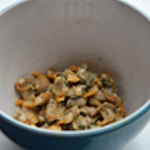 Remove the shells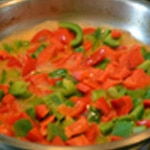 Cook the peppers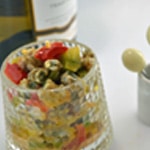 Zoom