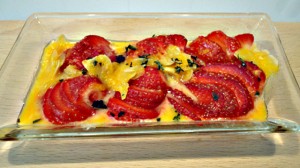 Recipe: Strawberry Sabayon
Strawberry sabayon recipe, an original way to consume strawberries here, my favorite gariguettes, I love them in all forms. Here is a strawberry dessert for a great occasion, the strawberry sabayon can be prepared in advance and baked at the last moment. A dessert to be made when the strawberries are not yet ripe, they will be more in the spotlight. I used my new rectangular Passavant la Rochère glass verrines, they were highlighted with this strawberry sabayon.
Recipe ingredients
Recipe for 3 people: Strawberry Sabayon
250 g gariguettes strawberries
10 cl of white wine
3 egg yolks
1 tablespoon of sugar
1 tablespoon of flaked almonds
Instructions
Quickly rinse the gariguettes under the tap.
Remove the green operculum from the strawberry.
Thinly slice the strawberries with a sharp knife.
Arrange the gariguette strawberries in the verrines.
Heat the wine with the spoon of powdered sugar.
Let reduce by ¾.
Stop the fire.
Add the egg yolks.
Heat in a double boiler so that the mixture thickens.
Pour over the strawberries in the verrines.
Place in a hot oven for 5 minutes at 220 °.
Preparation time: 10 minutes
Cooking time: 5 minutes
Number of people: 3
4 star rating: 1 review
What wine to drink with: Strawberry Sabayon
My favorite wine for this recipe: Gewurztraminer late harvest. Gewurztraminer grape variety
Temperature between 11 ° and 12 °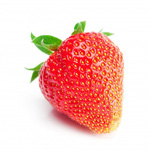 Wash the strawberries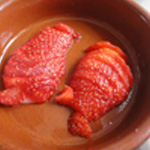 Slice the strawberries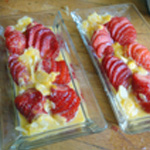 Pour the sabayon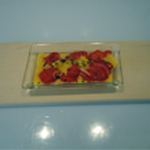 Ready to cook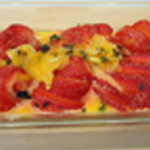 Zoom