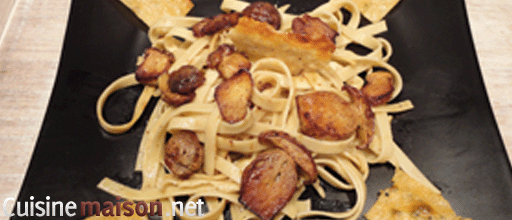 Recipe of Tagliatelle with Ceps
Summary : Fresh tagliatelle with freshly picked porcini mushrooms, a small tile of Parmesan to decorate the plate and voila, thank you to the forest, nature is generous. I like going to the forest in the fall, I particularly like these long walks in the silence of our beautiful forests. A nice tasty recipe with these porcini mushrooms picked during the day I loved these tagliatelle with porcini mushrooms. You can also make this recipe with dehydrated mushrooms, you just have to rehydrate them 30 to 40 minutes before. A beautiful autumn dish with these tagliatelle with porcini mushrooms.
Ingredients :
Recipe of Tagliatelle with Ceps for 4 people
320 g of fresh homemade tagliatelle or fresh aisle
600 g of fresh porcini mushrooms
1 tablespoon of olive oil
20 g butter
50 g parmesan
Instructions
Cook the fresh pasta in a large volume of water
Drain the tagliatelle at the end of cooking.
Grate the Parmesan then place it in the shape of a volcano on a sheet of baking paper.
Crush the Parmesan to obtain a fine tile 3 to 5 mm thick.
Bake in a very hot oven 200 ° under the grill, beware it takes 2 to 3 minutes of cooking: to watch because that
burns very quickly.
Cut your parmesan plate into the desired shape.
Clean the mushrooms by scraping them without wetting them.
Cut them into strips of the same thickness.
Sear the mushrooms in the oil and butter over a high heat.
Let them color well. As soon as they are cooked, set aside and put the tagliatelle in the pan.
Decorate with the Parmesan tiles.
Preparation time: 20 minutes
Cooking time: 7 minutes
Number of people: 4
4 star rating: 1 review
What wine to drink with: Tagliatelle with Ceps
My favorite wine for this recipe Saumur-champigny Grape variety: Cabernet franc; Cabernet Sauvignon
Temperature between 15 ° and 16 °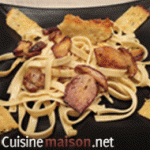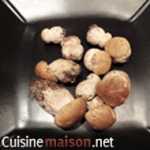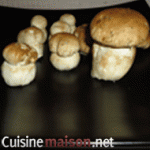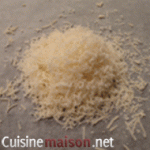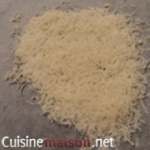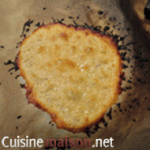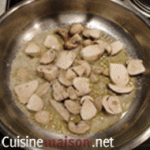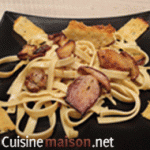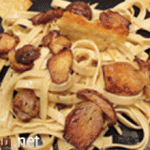 More recipes:
Tagliatelle with porcini mushrooms

Porcini mushrooms in butter

Risotto of porcini mushrooms and duck breast

Parma ham and parmesan cream tagliatelle
Porcini mushrooms
Parmesan cheese
Tagliatelle Pascal
Hide reactions

JA DO RE THE PASTA!

You know the tagliatelle with porcini mushrooms can be found on many sites. I like to be inspired by simple recipes. I am in testing for the newsletter.
Thanks for your visit.
Pascal

GOOD INSPIRATION FROM MY DISH THEN! ;-))

welcome to my kitchen for gourmet wanderings, I wanted to subscribe to your newsletter: not found!

Bah, apart from that: we have the tagliatelle with porcini mushrooms in common!

@ +
BREE

Hello Pascal,
This recipe makes me want
to taste the porcini mushrooms
I who only like dried mushrooms
Good Friday
Frieda

The good smell of mushrooms that mingle with fresh pasta a treat
I wish you a beautiful Tuesday, let's keep our spirits up despite the very cold October temperatures, bise, Valérie.

Mia miam… I want some !!
Good day
kisses

Hello Patricia,
Thank you for your comment, but we are all in awe of the wood kings that are porcini mushrooms.
Have a nice day
Pascal

It's a very seasonal recipe and it has everything to please me!

Good evening Pascal,
Delicious fresh pasta with porcini mushrooms, my favorite mushroom, what a delight …
A meal always successful.
Thank you for your visit.
Good evening, Patricia

Fresh pasta with porcini mushrooms, it's super good!
Very good start to the week,
Kisses, Doria

As usual you are right to between costs, it cannot be compared.
A +
Pascal

Well here they are the small tagliatelle with porcini mushrooms! Too bad we will have to wait until next year to try the recipe because frozen porcini mushrooms are not my strong point. I'm mad at not having had the idea as long as my early bird had porcini mushrooms. Pascal kisses

Hello, to be very frank, I have a month behind in my recipes, but thank you for your comments.
Pascal

You're lucky to still find porcini mushrooms here it's over unfortunately.
Your reactions / questions / tips: Cancel reply
Remark
Name *
Email *
Website
</p