Recipe: Tarte des demoiselles Tatin
To make your pie a success, you have to cook your apples in butter and sugar, in a heavy saucepan or frying pan, at all costs. During the caramelization the happiness, the apples are gently colored and this throat of butter and caramel. Seasonal apple pie with the arrival of autumn, it is a topical recipe. Tarte Tatin is my favorite apple pie recipe, I like to serve it with whipped cream and barely flambéed with Calvados
Recipe ingredients
Demoiselles Tatin tart recipe for 8 people
Shortbread dough (see recipe) or 1 store-bought shortbread roll
250 gr of butter
400 gr of sugar
3 kg of firm apples
Instructions
Make your dough or roll out your dough.
Melt the butter and sprinkle the sugar over your melted butter.
Let your sugar slowly caramelize.
Peel your apples by removing the middle, slice them in half and place them gently on your butter.
Let the juice from the apples evaporate; they must be cooked.
Place the apples in order to have the minimum empty space, squeeze the apples as they cook.
They should take on the color of your caramel.
Turn the apples over but be careful, you must end up with the apples upside down since we are going to turn the pie. Once you are happy with cooking your apples.
Place them in your mold with the rounded part on the mold, cover with your shortbread dough.
Pass in a hot oven at 220 ° for 20 minutes, take out your tart as soon as the bottom is cooked.
30 minutes before serving, reheat and turn out your pie. You can serve it with a scoop of whipped cream and flambé your tart with calvados.
Preparation time: 20 minutes
Cooking time: 20 minutes
Number of people: 8
4 star rating: 1 review
What a pear wine with the tarts of the Tatin demoiselles
My favorite wine for this recipe: Montlouis sur Loire Cépage Chenin blanc
Temperature between 08 ° and 10 °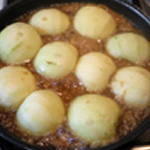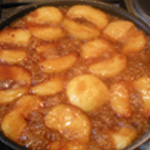 Bake the apples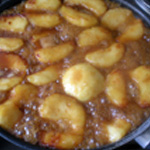 Turn the apples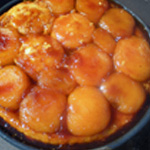 Baked pie