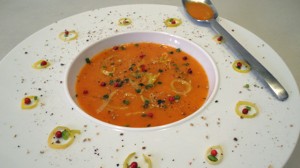 Recipe: Tomato soup
Tomato soup recipe, I still had tomatoes that had suffered in the refrigerator. I accompanied my tomato soup with finely chopped leeks and just seared a little in butter, they were still a bit crunchy. Surely the last hot soup, finish with a tomato soup before entering the spring.
Recipe ingredients
Recipe Tomato soup for 4 people
8 tomatoes
2 cloves garlic
1 onion
1 leek white
2 tablespoons of olive oil
2 knife tips of Espelette pepper
1 large potato
½ lemon
1 tablespoon of ketchup
2 sugar cubes
Peppercorns
Instructions
Peel then finely chop the onion.
Peel and finely chop the garlic.
Rinse the tomatoes under the tap.
Cut the tomatoes into quarters.
Heat a saucepan with olive oil.
Sear the garlic and onion.
Add the tomatoes once the onion has taken color.
Peel the potatoes, then cut into small cubes.
Add the potatoes with the tomatoes.
Squeeze the ½ lemon over the tomatoes.
Add the 2 sugars.
Rinse the leek, then cut it into slices as finely as possible.
Add 1 liter of water and cook for 25 minutes.
Heat the pan with the butter and a spoonful of olive oil.
Discard the leeks and just let them turn transparent, do not allow them to color.
Add the tablespoon of ketchup.
Serve the soup, then add the leek strips.
Preparation time: 20 minutes
Cooking time: 25 minutes
Number of people: 4
4-star rating: 1 review)
What wine to drink with: Tomato soup
My favorite wine for this recipe: Blaye blanc Cépage Sauvignon blanc; Muscadelle; Semillon
Temperature between 08 ° and 10 °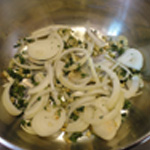 Color the onions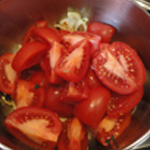 Sear the tomatoes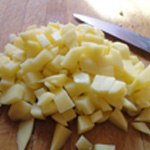 Cut the potatoes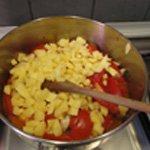 Sear the potatoes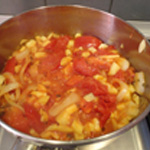 Add water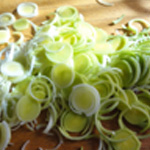 Slice the leeks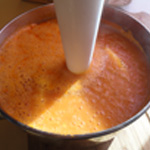 Mix the soup