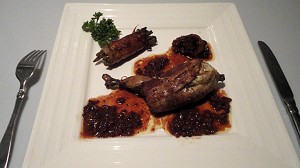 Recipe: Quail with wild lingonberries
Quail recipe with lingonberries, flavored with a sweet white wine. Recipe for roasted quail with lingonberries in the cast iron casserole dish, be careful not to overcook them as they could dry out. Quail with wild lingonberries for a festive meal.
Recipe ingredients
Quail recipe with lingonberries for 4 people
For 4 people
4 Quails
2 tablespoons of cinnamon
4 turns of pepper
40g butter
1 tablespoon of oil
1 jar of lingonberries
25 cl of Monbazillac wine
1 lemon juice
Instructions
Trim or have the quail trimmed.
Tie up the quail, sticking the thighs well against the body.
Salt and pepper.
Sprinkle with cinnamon and pepper, roll them well in the spice and pepper.
Heat the oil and butter in a pan.
Add the quails and brown them.
Turn over so they are golden all over.
Reserve the quails in the hot oven at 80 °.
Pour the cranberries into the casserole dish, reduce the juice of the cranberries
Add the white wine, well collect the juices around the casserole dish.
Reduce by 3 quarters, stir well with a wooden spoon and this until the sauce is homogeneous.
Taste salt and pepper then adjust the sauce.
A few minutes before serving, bring the quails back to temperature in the casserole dish and let them cook gently for 10 minutes
Remove the string and serve the quail topped with the sauce.
Preparation time: 20 minutes
Cooking time: 10 minutes
Number of people: 4
4 star rating: 1 review
What wine to drink with: quail with lingonberries
My favorite wine for this Gigondas (Red) recipe (Grape varieties: Cinsault, Grenache noir, Mourvèdre, Syrah)
Temperature between 13 ° and 14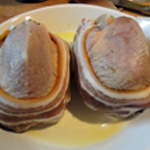 wild-lingon-quail 01 Barder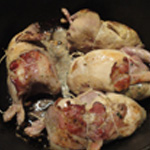 wild-lingon-quail 02 Color the quail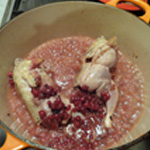 cranberries 03 Add cranberries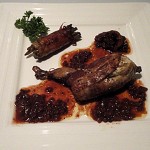 wild-lingon-quail 04 Finish