Zucchini Omelette Recipe
Summary : My friend Florence brought me small zucchini from her parents' garden, I immediately thought of a Zucchini Omelette. As my son is at home this weekend and prefers hearty breakfasts, I am going to present him this beautiful Zucchini Omelette, still crunchy; zucchini will bring a very special flavor to his breakfast. Often zucchini lose their interest if they are overcooked, I love them when they are still very firm, they are tasty and full of vitamins, a great thought to my friend Claude who took the time to pamper them several months before. which do not arrive on our plates.
Zucchini omelette recipe for 2 people:
Ingredients
2 small zucchini
4 fresh eggs
½ onion
1 clove of garlic
1 teaspoon of olive oil
1 knife tip of powdered ginger
4 basil leaves
A few pink berry seeds
Peppercorns
Instructions
Rinse the zucchini.
Slice lengthwise in quarters.
Then cut them into small quarters.
Peel the onion and the garlic clove.
Sear the garlic in olive oil.
Add the onions to the hot pan.
Pour in the zucchini and cook for 5 to 7 minutes, they should remain crunchy.
Break the eggs, beat them.
Pour the eggs over the zucchini, the omelet should be runny.
Just before serving add the chopped basil.
Preparation time: 10 minutes
Cooking time: 5 to 7 minutes
Number of persons :
4 star rating: 1 review
What wine to drink with: Zucchini omelette
My favorite wine for this recipe: Bordeaux red Cépage Merlot Cabernet Franc and Sauvignon
Temperature between 15 ° and 16 °
Partnership
A thought to all those connected from abroad, lovers of French cuisine and its wines: here is a great opportunity for you to buy a quality wine, to accompany my zucchini omelet recipe. I selected this Bordeaux red wine from Château Caminade Haut Guerin its Tentation merlot rouge cuvée after tasting it, I liked its supple tannins and its velvety side. Made from the Merlot grape variety. It goes wonderfully with this zucchini omelet.
www.caminadehautguerin.com
Caminade vineyard
1758 route de Moulon
33420 Génissac
Phone 05 57 50 29 72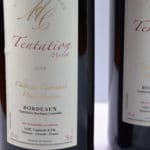 Temptation Merlot Zoom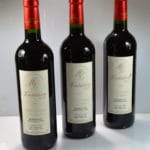 Temptation Merlot 3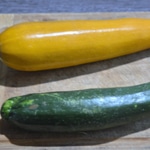 Wash the corgettes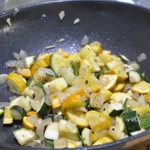 Sear the zucchini